Distinguished Professor Dr. Gromala, the Pain Studies Lab and the Institute for Medical User Experience Research (IMUX) are looking for new graduate students (Master's or PhD) or postdoctoral researchers to join our group. Applications are due in January for a September start. In some cases, off-calendar acceptance may be possible for PhD students or postdoctoral researchers. Positions are highly competitive.
We are looking for programmers, designers / UX researchers, 3D animators and videographers.
In order to be considered you must have:
A Bachelor or Master's degree in Computer Science, HCI, interaction design (or related design fields) or health research with a GPA that meets SFU's admission requirements.
At least one of the following: strong programming proficiencies [Unity(C#), UnReal(C++) or web and mobile phone development preferred], strong 3D animation, interaction design, video skills, design/usability research skills, strong health research skills.
Good written and oral communication skills.
A demonstration of strong interest in one of the lab's projects.
A sense of humor.
Industry experience, no matter how brief, is a plus.
Full funding will be provided at levels commensurate with other Canadian and American universities, as long as adequate progress is made in the grad program. For design students or animators, funding exceeds what is typically offered elsewhere. We also offer actual interdisciplinary training that is difficult or impossible to get elsewhere.
Grad students receive healthcare and travel funding to present their published papers at international or national conferences.  SIAT's grad students are typically in-demand for internships with our industrial and non-profit collaborators: major international software development and health tech companies in Canada, the U.S., Europe & Australia/NZ.
Google named the Pain Studies Lab as one of its first ten "moonshots" — that is, "radical new technologies that may solve some of the world's hardest problems."
At a meta-level, our research group specializes in the areas of human-computer interaction (HCI), health technologies, VR/AR/XR, interaction design, interactive video, and technologies for self-care and wellness. Specifically, we study the design and use of technologies aimed at supporting people who live with chronic conditions, their caregivers (friends, family members) and their clinical professionals.
Many of  our research projects focus on the study, design and testing of patient-centred health technology systems; gamified rehabilitation and wellness programs; and self-care and self-management systems that include capturing, tracking and visualizing personal data. To learn more, explore our website, esp. the PEOPLE, BLOG and PUBLICATIONS sections.
We have a strong research and publishing record in technical, design and health research domains. The PUBLICATIONS page demonstrates how many papers we regularly have accepted by top peer-reviewed conferences, ranging from  HCI (ACM CHI, CSCW, TEI) and Design (DP&P, IDSA, DIS, AIGA) to health research (Pervasive Health, CPS, IASP). Along with our demos & exhibits, our publication record demonstrates the strength, relevance and reach of our research program — and the impact our work has in the real world. In our lab, hard work equals results. More peer-reviewed publications, awards, and design exhibits mean more scholarships, more travel funding for conferences and better jobs when you graduate.
Pain Studies Lab
School of Interactive Arts and Technology
Simon Fraser University Surrey
250 -13450 102 Avenue
Surrey, BC V3T 0A3
Canada
Tel: 778 688-8340
painstudieslab.com
A History of Successful Alumni
Dr. Gromala's grad students went on for advanced degrees or postdoctoral fellowships at (selected list):
Cambridge (GB)
Carnegie Mellon
Duke University
ETH Zurich
MIT Media Lab
NYU
RMIT (AU)
UC Berkeley
UCLA
U Toronto
U Waterloo
Yale University
Art Center
CalArts
Cranbrook
RISD
Dr. Gromala's PhD students are themselves now tenured professors at (selected list):
Fordham University
Georgia Tech
School for Social Research (NYC)
Texas A&M
Trinity University
University of Michigan
University of Washington
University of Waterloo
University of Texas
Graduate and undergraduate alumni Dr. Gromala mentored have industry jobs at (selected list):
Apple
Amazon
Archiact
Blast Radius
Business Objects
Cartoon Network
Electronic Arts (EA)
FaceBook
Felix&Paul (VR)
Google
IBM
Maxis
MOMA
Microsoft
Microsoft Research
MTV
MUSE
National Geographic
Nokia
Philips Research
SAP
Seimens
Smithsonian Institute
Sony
User Insight
In health domains, Dr. Gromala's alumni are leading technical innovation at:
BC's Children's Hospital
Fraser Health
The (US) Centers for Disease Control (CDC)
The Center for Assistive Tech. & Env. Access (CATEA)
Others are managers at non-profits like:
The Center for Digital Government
PainBC (Education head)
Dr. Gromala worked in industry for 10 years at Apple Computer & she owns her own company. She mentors entrepreneurs. Her alumni have spun off their own start-up VR and health tech companies in Vancouver, Montreal, San Francisco and the Silicon Valley.
The Pain Studies Lab is a custom-designed, purpose-built research lab funded by the Canada Foundation for Innovation (CFI).
It has a Strategy room, 2 rooms for conducting research studies with patients, a recharging space and a large grad student space.
Our lab also has diverse VR & AR equipment, biosensors, design studio tables, DIY gear & electronics, and basic photo/video equipment (incl. 2 drones, hi-res cameras, GoPros, surv. cams) and backdrops. Depending on the work at hand, this can be easily enhanced by additional XR equipment, or professional photo/video/lighting gear that can be checked out from SIAT's Library.
Grad students also have access to SIAT's SolidSpace prototyping shop (a basic metal & woodworking shop w/ 3D & digital printers) and a new Maker Space in SFU's Bennett Library.
The School of Interactive Arts and Technology
Simon Fraser University (SFU) has been consistently ranked as one of the top universities in Canada. We have three campuses: on Burnaby mountain, downtown and in Surrey.
SIAT (The School of Interactive Arts and Technology) is a young, vibrant department at SFU. Our research and teaching are in the areas of human-computer interaction, interaction design and media arts. Graduate students take courses in qualitative and/or quantitative research methods, computation, and interaction design or media arts. They also complete a written thesis that bears a substantial research component.
Expected completion times:
for a thesis-based Master's degree: 2 years
for a PhD: 4 years
for postdoctoral researchers: 6 months to 2 years
SIAT is on the Surrey campus, 1 of SFU's 3 campuses in Greater Vancouver, Canada.
Greater Vancouver lies along the west coast of Canada where the Pacific Ocean meets majestic mountains. With 2+ million people, Greater Vancouver is known as one of the most ethnically diverse cities in Canada, and has been ranked as "one of the most liveable cities in the world," based on quality of life.
Vancouver is a great destination for those who love the outdoors (e.g., skiing, hiking, water sports) as well as the indoors (e.g., museums, art galleries, theatre, hockey!).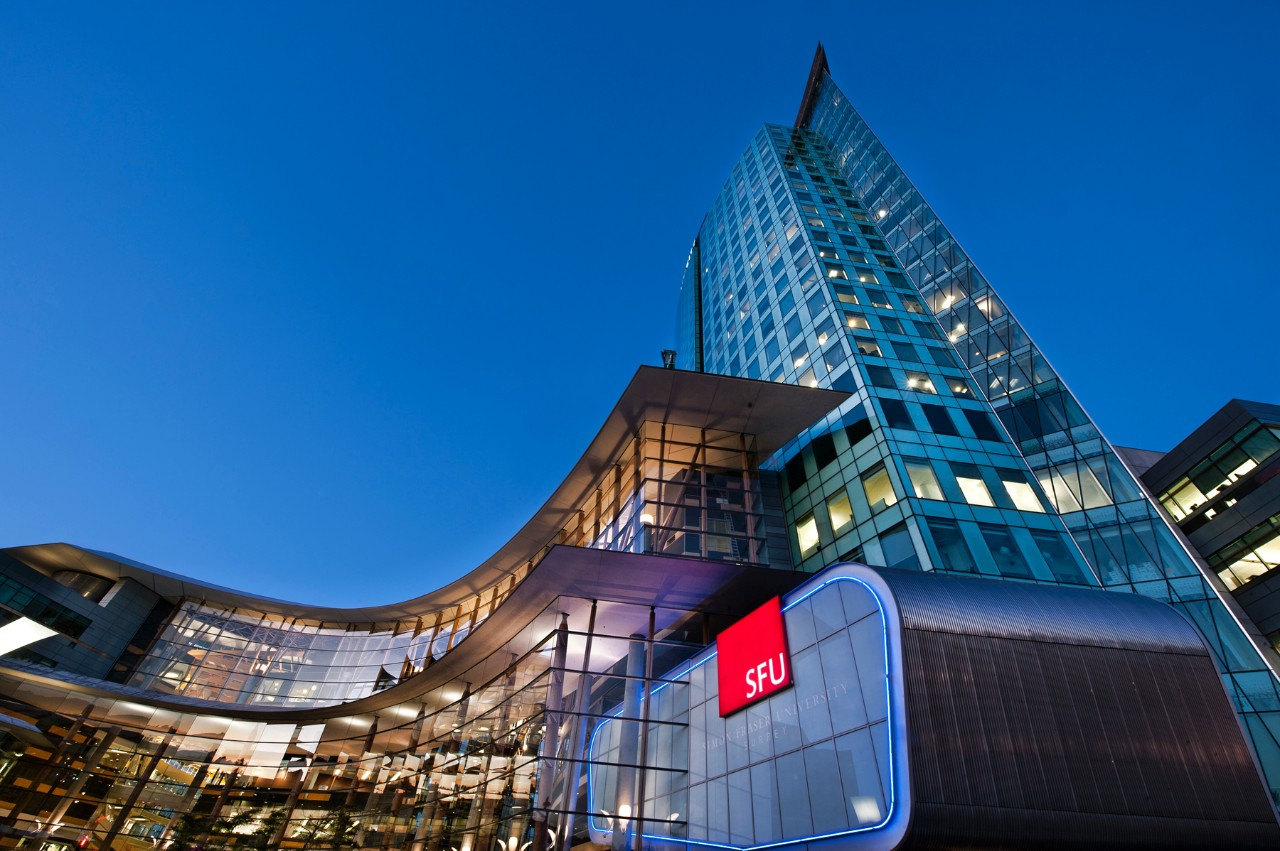 Interested applicants should email gromala@sfu.ca to discuss their application before applying to SFU, ideally between August and January. Emails need to be titled PROSPECTIVE GRAD STUDENT and must include the following 4 items:
A description of your research interests: as they relate to the lab's existing research; you need to show clear evidence that you have actually looked at the types of research we conduct; the best place to do this is to look at this website's PUBLICATIONS page.
A curriculum vitae (CV)
A copy of your unofficial transcript
An image showcasing your potential contributions to the lab: this can range from a photo of your design, media, computational or clinical work to a short video. We are NOT looking for a portfolio per se — a link to that can be included later, in your formal application. We are looking at this primarily to gain a sense of your creativity, personality and/or "get it done" initiative.
If you don't include one or more,  your email probably won't get a reply.
Once you have discussed your interest in joining the Pain Studies Lab with Dr. Gromala, you will follow SIAT's normal graduate student application process.