An innovative workshop redefines what 'Citizen Science' can mean in health domains
On April 18th, 2019, Dr. Diane Gromala, Dr. Chris Shaw, Ankit Gupta, Bhairavi Warke and Sherry Wang from SFU's Pain Studies Lab led a co-creation workshop with their long-time collaborators from the Arthritis Research Center: Dr. Linda Li, Hussein Mamdani and Juliane Chien at University of British Columbia in Vancouver. In this innovative workshop, health researchers and their patient-partners got together to explore new approaches to collecting information about 'the burden of symptoms' from patients in British Columbia (BC), Canada.
(Photos courtesy: Bhairavi Warke 2019)
Participants shared their experiences of trying to define and articulate their 'burden of pain' symptoms on their biopsychosocial realities, as well as their abilities to function and their quality of life.
The objective: to question what 'Citizen Science' might mean in health domains. Instead of asking citizens to count birds or measure water levels, we plan to ask citizens of BC about their pain symptoms — whether or not they have been diagnosed with a particular condition(s). For health research, this may prove to be an innovation since research often follows a diagnosis, and is usually categorized according to a diagnosis or disease.
The workshop was derived from 'design thinking' approaches. It structured the way we explored different methods for collecting the pain-related data, including: a standard medical classification list of symptoms, the well-known McGill Pain Questionnaire, information from questionnaires about function and quality of life, 'Mood Cards' and lots of post-it notes, tags and writing implements.
In addition to ARC's patients-partners, the health researchers participating in the workshop played the role of citizens who would be contributing information about their health anonymously. By doing so, we all got a deeper understanding of how rich pain-related data could be, and how complex it is to communicate.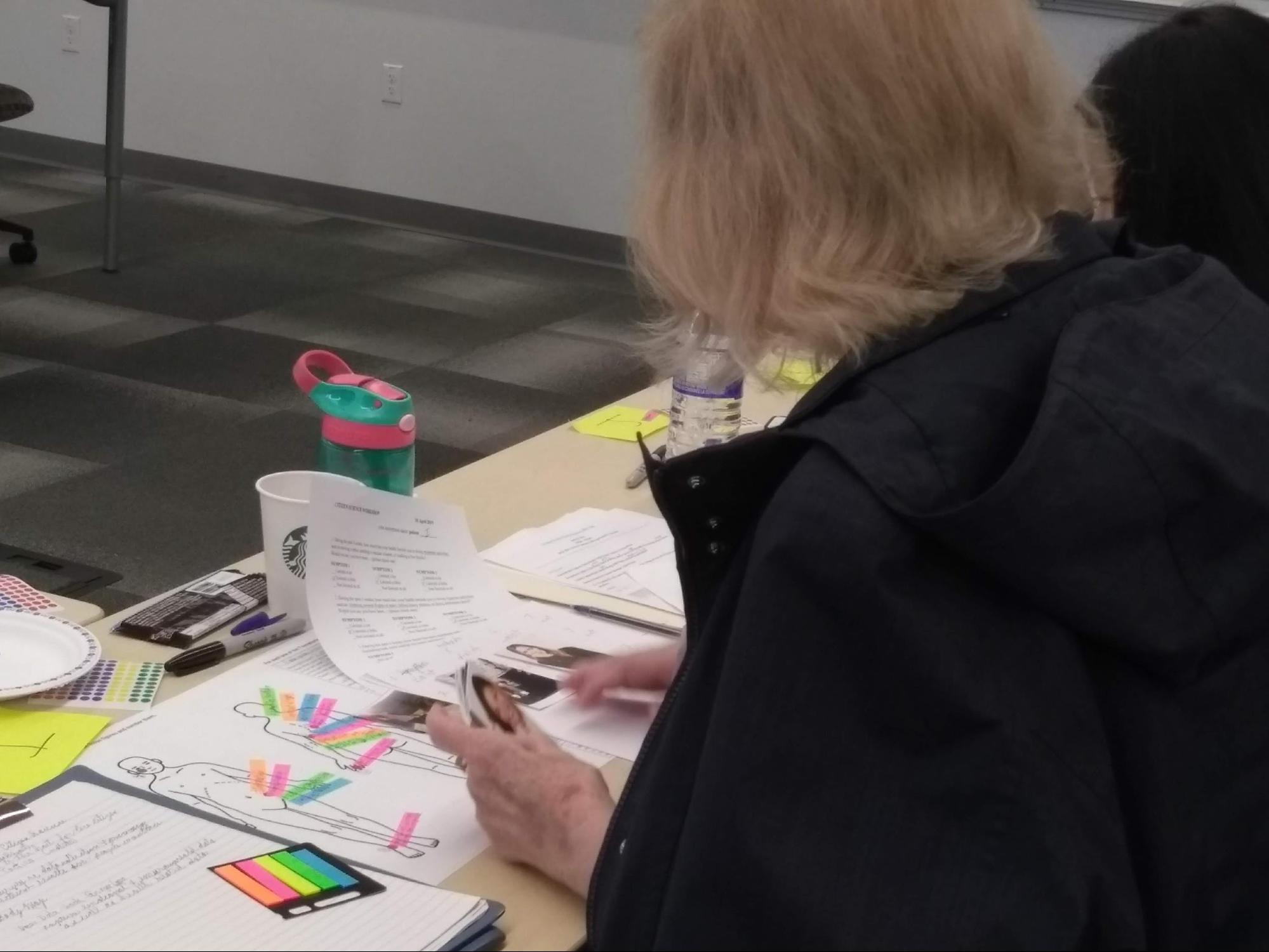 A participant selecting "Mood Cards."
The workshop comprised four phases:
choosing medically classified symptoms,
annotating a human figure with those symptoms,
describing how their symptoms impacted work, family, life and social contexts, and
choosing "mood cards" to help articulate psychological contexts.
Outcomes of the research revealed a high level of complexity required for such a system and helped identify the needs not only of the citizens who would be contributing their information but also the health researchers who would use that information. The teams plan to further refine their approach and test for security, privacy, usability, compliance, and effectiveness.

Left to Right: Juliane Chien, Alison Hoens, Delia Cooper, Cheryl Koehn, Hussein Mamdani, Ankit Gupta,  Diane Gromala, Chris Shaw, Leanne Currie, Abdul-Fatawu Abdulai, Sherry Wang, Linda Li.