We responded to the call to help with COVID-related vaccination software, especially for vulnerable and at-risk people, such as those who live with chronic conditions. What also differentiated our system was its technical integration with Electronic Health Records (EHR).
As the researchers on a Canada-wide project funded by the Supercluster, MITACS, and the Digital Health Circle, we collaborated with health tech companies Cambian, IBM, LifeLabs, TickIt, Well Health, and the non-profit Providence Health Care.
Our job as researchers was twofold:
to identify the real needs of people identified as "vulnerable and at-risk" &
to ensure the system was as inclusive and usable as possible.









We built on our technical and design expertise in designing, building and testing health tech for people who live with long-term, chronic conditions, their caregivers and their healthcare professionals.
Our patient-centred approaches and our interests in inclusive, individualized healthcare enabled us to uncover many of the specialized contexts and needs that would have otherwise remained invisible. 
To interact with as many people as possible, we first contacted numerous non-profit organizations, interviewed their organizers and staff, and focused on in-depth interviews, usability studies and discussions with their many members.
Next, we conducted usability studies to make sure the vaccination scheduling system would be usable by those who are aging, immuno-compromised, differently abled, living in remote areas, living with chronic conditions, or who could only access the online system via mobile phones.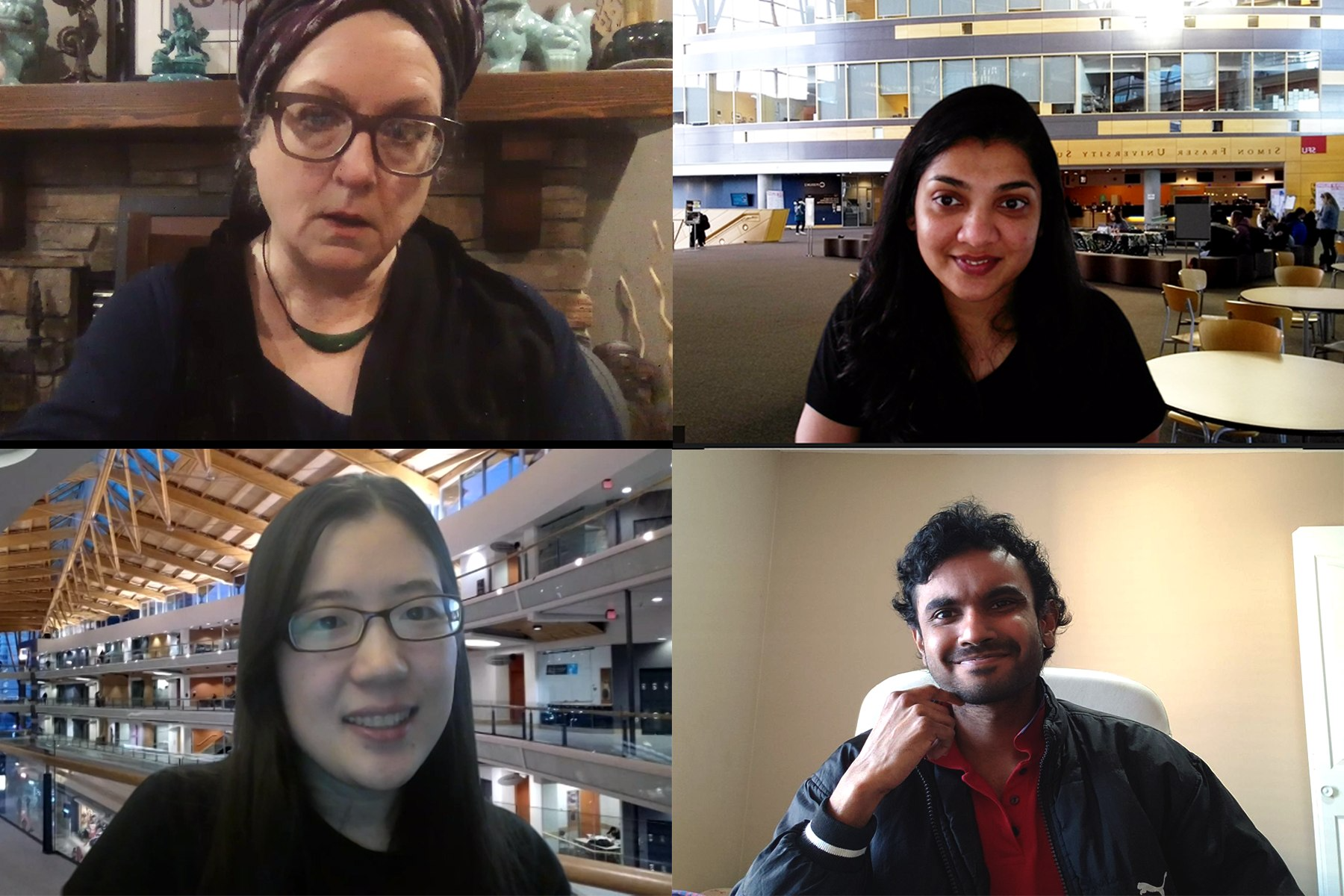 Clockwise: Dr. Diane Gromala, PhD students Bahiravi Warke, Xin Tong and MSc student Amal Vincent worked with people who are considered "vulnerable and at-risk" to severe illness from COVID-19 as identified by Canada's and BC's Ministry of Health. This included seniors, those who have cancer, are immuno-compromised, or have chronic conditions such as insulin-dependent diabetes, cardiovascular disease, kidney conditions, blood and rare diseases, significant developmental disabilities or require respiratory support.
Our discoveries:
the crucial and diverse roles of diverse caregivers (a family member, friend or neighbor);
the roles and centrality of extended families, especially among many people new to Canada;
important gender, cultural and linguistic differences; and
that ease-of-use is essential, not a mere luxury.
An unexpected outcome was developing a just-in-time, rapid response method to communicate the results of our research in an accelerated but scientifically trustworthy way.
Project focus and findings:
UXUI:
Needs Analyses
Usability Studies
Patient-centred Design
Inclusive Design