In April, "four Canadian innovators received prestigious and valuable awards from the Arthritis Society to bring to life their solutions for fighting the fire of arthritis" — one is a project that Dr. Diane Gromala and Dr. Chris Shaw collaborate on with the Arthritis Research Centre (ARC), called OPERAS.
At the inaugural Arthritis Ideator Awards, Dr. Linda Li accepted the Olga Munari Arthritis Ideator Award for OPERAS at MaRS in Toronto. The award was based partly on the originality of the innovation, potential for significant and lasting outcomes for people with arthritis, and readiness for market.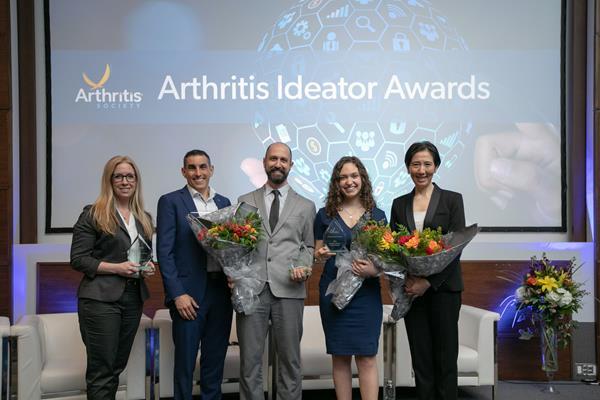 Left to right: Winners Michelle Laflamme and Alex Fuentes of KneeKG, Matthew Rosato of PROVA Innovations, Lianna Genovese of Guided Hands, and Linda Li of OPERAS.
In addition to the $50,000 grant, the Arthritis Ideator Program gives innovators access to expert advice from the Arthritis Society and the broader arthritis ecosystem as they continue to develop their innovations, as well as to people living with arthritis who can support testing or provide feedback through focus groups or surveys.
"Arthritis is a huge challenge looking for bold solutions and we want to support bright minds as they create those solutions," says Trish Barbato, President and CEO of the Arthritis Society. "We are embracing innovation like never before because we believe it is key to changing the lives of the six million Canadians living with arthritis."     
OPERAS is an app-based program to empower active self-care, capturing information on the go, and providing trends on symptoms, disease activity and treatments. Says creator Linda Li, "With OPERAS, people with arthritis can monitor disease activity, keep track of medications, create action plans and collect and display physical activity data through an integrated physical activity tracker. It gives a detailed picture to help users lead healthier, pain-free lives." 
OPERAS described: https://arthritis.rehab.med.ubc.ca/ 
https://arthritis.ca/about-arthritis/arthritis-in-the-news/news/arthritis-society-awards-$200,000-in-first-ever-arthritis-ideator-awards
https://www.globenewswire.com/en/news-release/2022/04/22/2427551/0/en/Arthritis-Society-awards-200-000-in-first-ever-Arthritis-Ideator-Awards.html